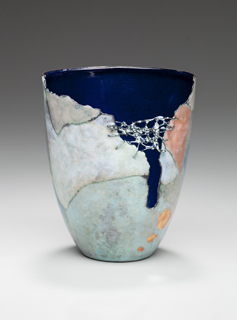 The Vessels Gallery contains recent work that is for sale. Work displayed on this page may be purchased by contacting Judy Stone.
Although I enamel primarily on copper I also enamel steel. Enameling on steel or cast iron is a fairly recent development in the 3000-year-old history of the medium. The process, discovered in the mid-19th century, has led to industrial uses such as signage, architectural elements, cookware and utensils (sometimes called camping ware or "tin ware"), and appliances such as stoves, bathtubs, and washing machines.
I have been fortunate to have studied "large scale enameling" at Kent State University which introduced me to the world of industrial enameling. I have also been able to work with KVO Industries to produce large-scale commissioned wall installations in steel, mostly for HDSI Management in Los Angeles. See the genesis of the Red Steps Project that was created for HDSI Management a few years ago. These commissions are for low income senior housing projects in very poor neighborhoods. I feel privileged to be able to create wall art in these spaces.
Judy Stone