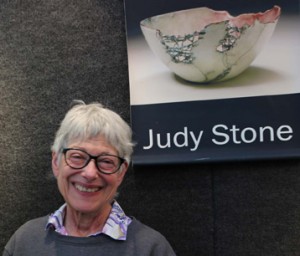 Stone's latest work can be viewed on this website as well as in exhibitions throughout the US and abroad. She teaches enameling classes and workshops, primarily in the San Francisco Bay Area. As founder of the Center for Enamel Art, she has been creating partnerships with other Bay Area organizations to sponsor workshops, symposia, exhibitions, conferences, and lectures. She is a passionate advocate for the medium as an art form.
See Stone's work – Dec. 16-17, 2017

Stone's work is not shown very often since she stopped doing crafts shows and gallery sales. She is not retiring and continues to put time into her studio work to create her wonderful destructed vessel forms.
She will be putting in a rare appearance at the Crucible Open House in Oakland, CA where she teaches and is department head of the enamel department.
If you have been waiting to purchase that very special piece now is the time!
Dec. 16-17 , Saturday and Sunday
Classes/ Workshops
Stone has been invited to do a Breakout session at the ECU Symposium in January, 2017. This symposium at East Carolina University has become a magnet for students and scholars. Stone is excited to share her knowledge with the attendees.
Exhibitions
Stone will be taking part in a very special curated exhibition which the Center for Enamel Art has put together to send to Taiwan in April for a very large international enamel exhibition called "Blaze. The Center's theme is