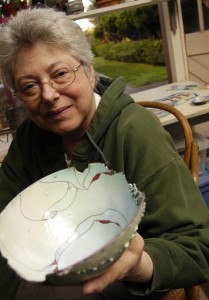 Judy Stone first began enameling in 1968, while studying in Germany on a Fulbright scholarship. She began enameling professionally in 1972. Stone has studied with some of the country's most prominent enamelists in the USA, including Bill Helwig, Margaret Seeler, Jamie Bennett, William Harper and Martha Banyas. The late Fred Ball's experimental techniques have been a very important influence.
Her enamels are shown in the United States in venues specializing in fine crafts. She has exhibited in enamel exhibitions both in the U.S. and in Europe. She also teaches enameling throughout the United States. The enameling department at The Crucible in Oakland, California is her creation and she is currently co-head of that department.
Recently she has embarked on a new adventure as founder of the Center for Enamel Art. She is a former board member of the Northern California Enamel Guild, and The Enamelist Society. She has written technical chapters for 2 books: The Art of Fine Enameling, ed. Karen L. Cohen; and Contemporary Enameling: Art and Techniques, ed. Lilyan Bachrach. Her work appears in 500 Metal Vessels and 500 Enameled Objects published by Lark Books.