It's been a while since my last post. I apologize to everyone wanting to know what I have been up to and whether I am still working now that I am no longer doing shows. Yes, I am still working.  I have come to value my time in my studio as a time of quite and nurturing. Here is an image of one of my more recent pieces.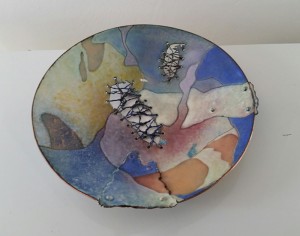 Baltimore ACC, the Smithsonian, the Pasadena Contemporary Crafts Market, all have come and gone and, for the first time in many years, I wasn't there. This year without crafts shows is almost  like the year after I left my PhD program at Indiana University. My body has a certain rhythm that ties it to events, times of the year, schedules, places, colors, people. . . Without those anchors I sometimes feel lost.  Even though  I am not retired I seem to be experiencing some of the dis-associations that retirement brings with it.
My studio time has been very limited because of the the time I am putting into the Center for Enamel Art to get that organization off the ground. The Radical Enameling Workshops, the California Now exhibition, the search for a physical space, the building of an organization from the ground up make for much exhilaration and not too much sleep.  The Center has now started its own blog, Share the Heat, which is being edited by Lauren Puchowski.  I will be writing posts occasionally on some topics near and dear to my heart.
Part of the plan this year was to assess how to get my work out to a public without too much expense and too much travel.  I have no definite plans as yet to go back on the craft fair circuit.
I am in 3 enamel exhibitions this year: Little Dreams in Glass and Metal, California Now, and Alchemy 3.  Two of the exhibitions are traveling exhibitions and one is monumental in its scope.  I am proud to be one of 120 artists whose work will be in Little Dreams , a retrospective of American enameling form 1920 to the present.  When the exhibition comes to California next year I am hoping the Center for Enamel Art can create some exciting programs to accompany it.
I really miss the camaraderie of the artists I have come to know and care about at the various shows I have done.  I also miss the wonderful customer base that has supported me throughout the years.  I may decide to do one or two shows in California next year as well as try a few other ways of reconnecting to the public.  Meanwhile, I am working on updating the gallery portion of my website so that work can purchased online. Stay tuned!